A professional photographer or videographer needs a good wrist strap in their arsenal of gear. There's simply no getting around it. Obviously, it isn't necessary when the camera is stagnantly parked on a tripod, slider, or gimbal. The wrist strap really comes into play when you are out in the field, running and gunning. When stealing shots are imperative to landing the gig.
Everyone has been on those shoots where the producer, or whoever is spearheading the project, is frantically pointing out shots that the camera is missing. In these instances, it is easy for good footage or photos to be ruined by a shaky hand. A blurred photo or a clip that suddenly goes out of focus could mean the end of your workflow from a high standing employer.
What's worse than an out of focus photo or clip? Dropping a camera on set! Especially, if the camera is rented or provided by the job itself. Dropping a camera during work could lead the rest of the crew to believe that you are unprofessional and could also lead to lost gigs.
Lost gigs mean less money. It also constitutes a tarnished reputation in the world of photography and film, and if you are currently running your own business, you know that your professional reputation is everything. That is why having a proper camera wrist strap is absolutely essential. The following is a collection of reviews that will hopefully help to make your final wrist strap decision.
JOBY Wrist Strap for DSLR and Mirrorless Professional Cameras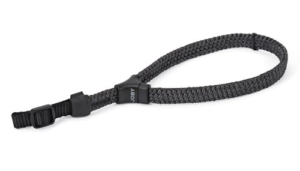 First and foremost, JOBY is an excellent prosumer company that produces some amazingly innovative products. Their Gorillapods are seen continuously, whether they are wrapped, stood up as a tradition tripod, or gripped to odd surfaces. They really work! People in the YouTube industry love them for the versatility they provide for all occasions and locations. The more traditional professionals like them for more turbulent jobs.
This particular JOBY wrist strap is designed for a smaller DSLR or at least a camera that isn't caged. The strap itself is thin and made of nylon webbing and ABS plastic. If you are looking to mount an exterior microphone or flash to the camera possibly, this may not be the strap for you. However, it's lightweight quality craftsmanship, and easy adjustability would be great for point and shoot cameras. If you're looking just to grab a few quick shots, this is the perfect strap for that.
Although it may be designed for a camera that is not outfitted with all the bells and whistles, the braided nylon and less than ½ an ounce weight provides a super secure hold on the wrist without creating an uncomfortable, digging grip.
Wrist Strap by Altura Photo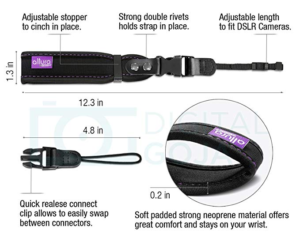 Altura Photo is a company that understands that capturing a moment has a lot to do with the gear you hold in your hand. They are dedicated to creating high-quality products that are both affordable and most importantly, functional. They offer everything from lenses and flashes to innovative storage and travel options for your gear.
The camera wrist strap by Altura Photo is basically the big brother to the JOBY mentioned previously. The strap sports a quick release connector that can be used to attach a more heavy-duty strap for heavier, more outfitted cameras. You may also use the connector to connect a smaller strap included in this package for smaller cameras, or for point and shoot jobs.
Under normal conditions, the wider strap claims to be able to support up to 10lbs of weight. This makes it perfect for a camera with an external flash or monitor. The straps are made from durable, soft neoprene, and are compatible with most cameras that sport an eyelet slot. Amazon users rated it a 4.6 out of 5 stars. The consensus is that it is the best bang for your buck at $9.99. Two straps for two different occasions for a low price is hard to beat!
OP/TECH USA SLR Wrist Strap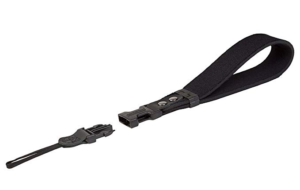 OP/TECH USA is a great company that supports the photo and video community by offering a considerably large product line of pouches, straps, and other camera accessories. In addition to camera gear, they also market to the professional bird watchers as well. Most of their camera straps are designed to fit comfortably on the most massive set of binoculars. They also provide an extensive line of dual harnesses for DSLR cameras. Mostly their entire stock is made in the US.
This strap features a full weave of neoprene material that is ultra-comfortable and pleasing to the wrist. Like it's Altura Photo competitor, it implies a 10lbs max weight ability. This weight ability makes the strap ideal for a photographer with a Canon 24-105, or a videographer with a set of Arri Master Primes. You can really push the limit when it comes to lenses with this kind of camera strap.
Rated an exceptional 4.7 out of 5 stars on Amazon tells us that consumers are really loving this product. Priced at a mere $8.95 for Prime members. It is a straightforward design that provides excellent security for all types of cameras and the most vigorous shoots.
Professional Camera Grip Hand Strap by USA Gear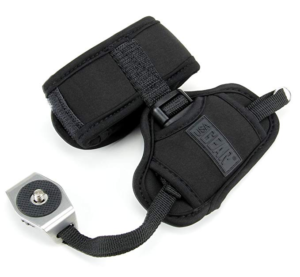 USA Gear is very in-tuned with how to protect camera gear on the go. They are fully aware of how the film and photography industry functions. They understand that the typical shooter is working in a fast-passed, high-intensity environment. When working in these types of conditions gear is bound to get jostled at the very least. Enter USA Gear, a company working hard to protect your equipment in all working conditions.
If you're looking to be strapped in, locked and loaded, this is the wrist strap for you. The camera strap by USA Gear comes equipped with an additional strap that secures the hand to the camera. The lightweight neoprene design is padded and adjusts to fit any hand size. The combination of a wrist strap that also provides generous hand support is excellent for combatting accidental drops.
Everyone has clumsy days, and if you happen to be a naturally awkward person you might have dropped a camera or two on the job. This strap virtually makes accidental drops impossible, all while offering excellent support for your hand and wrist. Its versatility and compatibility alone earn the dual strap it's 4-star rating.
Movo Photo HSG-2 Dual Padded Wrist and Grip Strap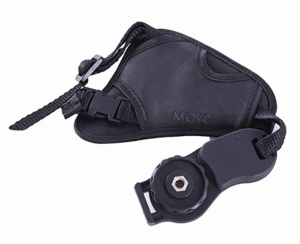 Movo Photo is a company that specializes in both camera and video, as well as audio gear. All of their products come with a one-year limited warranty and almost instant customer service communication. Whether you are in the market for a mixer or a stabilizer, Movo is well equipped to meet all your industry needs.
Their current claim to fame is creating gear that is phone devise specific. If you're looking for an audio kit that works well with a smartphone Movo comes highly recommended. They are currently working on a genuinely innovative smartphone video studio kit that will include everything you might need to shoot professional, quality work from your personal device.
The strap that they offer is easily affixed to any camera or camcorder with a 1/4-20 tripod mount, then double secured by back buckling the other end to the camera's eyelet slot. It will seamlessly lock into place. The padded material fits comfortably to the natural grip of your hand as well as your wrist. If you find that you are always on those run and gun shoots, this strap will definitely be an asset to your work. The extra security that it provides through the dual grasp on a hand is almost essential to ensuring a smooth-running shoot.
The reviewers on Amazon give the Movo camera strap a 4.1 out of 5 stars. Professionals who mostly work on travel gigs where they experience rough terrains love this product. It is a bit on the heavier side of the wrist strap spectrum, weighing in at 2.4 ounces. However, a more substantial strap that provides proper support gives the shooter the ability to attach all the bells and whistles they may need, as well as use a more massive lens at the same time.
All of these camera straps are exceptional and furnish the consumer with different uses for different experiences. They all cover an array of instances, from snapping some quick photos with family to compromising instances on a hectic shoot.
If you are looking to tote a bunch of external gear on a camera such as monitors, a flash, or microphone buying a sturdier wrist strap is probably in your best interest. However, most DSLR cameras used by photographers are minimally outfitted with just the basics. In which case a smaller, less cumbersome strap may be what you are looking for.
The most important thing to consider before purchasing any camera or audio gear is how it will enhance your work experience, and will it really stand up and perform its function when it's in use. In the case of which strap to use, you'll want to be sure that every time you release your firm grasp on the camera body, that strap made out of good quality material is strong enough to support the entire weight of the camera and its accessories.
The companies mentioned above are all great leaders in the camera and photography community that provide affordable, high-performance gear for whatever speed you're working at and will surely administer an excellent camera strap no matter which one you choose.