Photographers often spend large amounts of money on cameras, lenses, and laptops to edit photos. However, one of the most important items a photographer can spend money on is a way to make all of their equipment mobile, usually in the form of a backpack.
There are several things a photographer should look for when choosing a backpack. A photographer's backpack must be equipped with features to not only fit their equipment but also keep them protected from bumps and jostles. It must also be comfortable to wear and easy to store. It should also be versatile and offer protection from the elements. It should also allow for easy access to the equipment in situations where photos need to be taken quickly or quietly. Here are some of the best camera backpacks available on the market, all affordably priced under 100 dollars.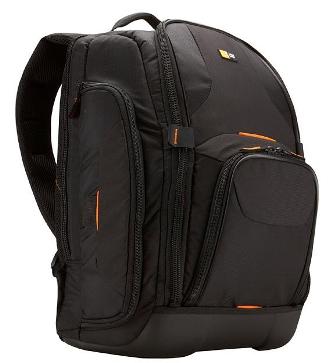 Case Logic is a popular brand of backpacks for electronics and cameras and their reputation for making quality bags shows in the SLRC-206. It offers plenty of utility and space for the camera and all its accessories. The hard EVA base is waterproof and offers the ability to stand the bag upright. It also has straps on the side to strap a portable tripod onto the bag. The bag is also quite lightweight when it is empty, weighing in at a little over 2.5 lbs.
Inside, the SLRC-206 offers enough space for a DSLR camera with an attached lens, any PC laptop up to 16″ and a MacBook Pro up to 17″. The interior lining of the backpack lid is made of memory foam to help protect the LCD screen on the back of the camera. The most interesting feature is the patent-pending hammock system that suspends the camera above the bottom of the case to prevent damage from being bounced around or hitting the bottom of the bag when it is put down.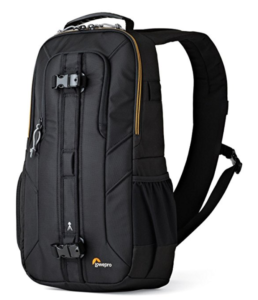 Wearing a DSLR camera backpack full of equipment and accessories can be uncomfortable at times. Lowepro's unique sling-style backpack design helps relieve some of the discomfort. It also allows for easy access to everything in the backpack without ever taking it off. It features the Hideaway Tripod Mount system that allows for storing a tripod or monopod easily. It's All-Weather cover protects the bag's contents from the elements. There are also SlipLock attachment loops that allow the user to attach compatible pouches and other bags.
Inside, the Slingshot can fit compact DSLR cameras such as the Canon Eios Rebel T6i with an attached lens easily. It can also fit three to four other lenses, accessories, and some personal items. However, there is not enough space in the Slingshot for a laptop. It is mainly designed to just carry photography equipment.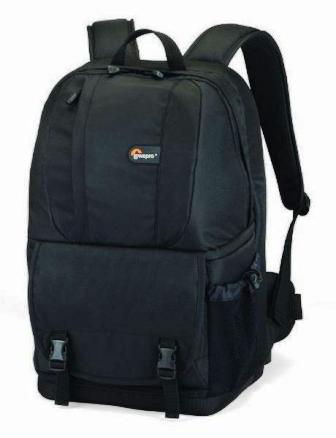 Lowepro offers many different styles of DSLR camera backpacks other than the Slingshot. The Fastpack offers traditional backpack style with easier accessibility and unique storage options. The outer shell is water resistant and offers plenty of outer pockets for storage including a harness pocket for a cellphone or mp3 player. A mesh side pocket allows for storage of easily accessible items like snacks or water bottles.
Inside, the Fastpack offers a triple compartment storage configuration. There are separate compartments for the camera, accessories, and a laptop. The laptop pocket holds laptops up to around 15″ wide. The DSLR compartment holds a DSLR with an attached lens and has room for two to three other lenses. The camera compartment can be accessed via a side flap that can be opened without taking the backpack off. Built into the side flap is a pocket for storing memory cards. The final compartment can be used for personal items and other accessories.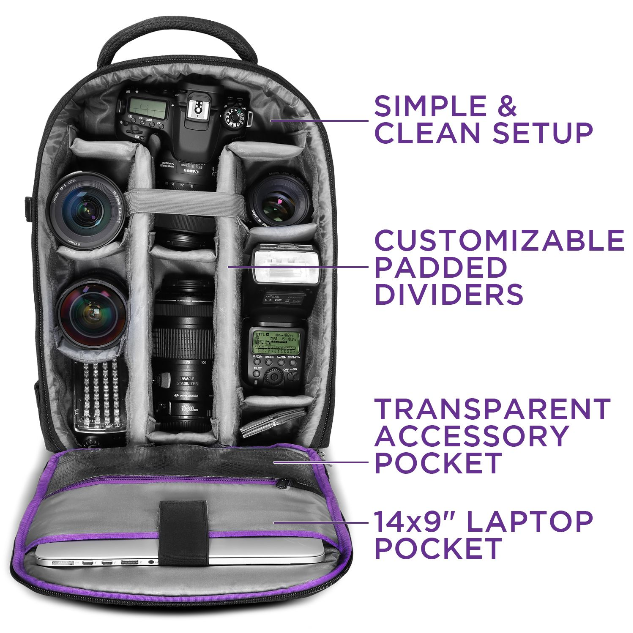 The best DSLR backpacks offer a great balance of equipment storage, comfort, duarbility, and accessory storage. The Wanderer by Altura is a great example of that balance. Inside, the Wanderer offers space for up to two camera bodies, up to six lenses, a flash, and accessories. However, depending on your needs the padded inserts can be rearranged or removed to offer customizable storage options. The back flap can hold any laptops or tablets up to 14″ wide as well as things like memory cards and extra batteries.
The construction of the Wanderer keeps the serious, traveling photographer in mind. The padded shoulder pads provide comfort for anyone of any height. The stitching at common stress points are reinforced for long-term durability. The 840D nylon exterior protects the contents from the weather, and the dual zippers connect, allowing for locks to be placed on it for added security. Also, the bag is officially TSA carry-on compatible. Small and affordable bag.
A photographer's tools are the most important things to them, and if they take the hobby seriously or are a professional, they should invest in a high quality backpack for their equipment. They should take into account how much equipment they want available to them at all times, whether or not they need a way to carry a tripod or monopod around easily, and how durable they want the bag to be depending on where they are going for a shoot. They should also think about the types of shoots they are doing, such as shooting a planned shoot with a human or a spontaneous shoot with local wildlife. And for those interested in looking good and being comfortable, they should choose a backpack that fits their style and offers comfort that fits their physical abilities and needs. A photographer's talent is more than just how expensive their equipment is, but in order to express that talent they need a way to protect and transport their tools and help them be prepared to take the best photos at a moment's notice. A great backpack can give them all of that.