Tripods can be expensive. You will find hundreds of DSLR tripods available on the internet claiming to be the best ones out there, but with a hefty price tag. How would you know which one to buy?
Who said DSLR tripods couldn't be inexpensive? You can buy affordable and reliable Dslr tripods even costing under 100 dollars. All you need is a bit of in-depth research, but why even do that when we are here with a guide just to aid you?
This guide of affordable tripods will let you purchase a reliable tripod for your DSLR all priced under $100 and and also being compact so they are great as travel tripods. A panoramic landscape shot or a still waterfall shot, these tripods will help you capture the best pictures you can.
Let's start with our affordable tripods for your DSLR.
1.     K&F Concept 62" DSLR Tripod, Lightweight and Compact Aluminum Camera Tripod with 360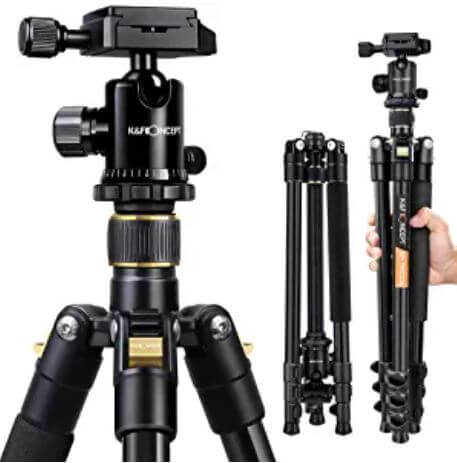 The K&F concept tripod is a lightweight tripod for DSLRs as it weighs 2.99 lbs, including the head. This tripod stand is small in height and portable for traveling experiences. For the stability of the cloud platform, it has a 28mm large ball head. It has a non-oil damping design, which ensures smooth rotation.
Portable 
The K&F tripod stand is the perfect definition of portability as its lightweight and height make it easy to travel with. The maximum height served is 62 inches. Such a size is best for stability, and it is convenient to use.
Quick flip leg lock
This tripod stand has the powerful feature of a quick flip leg lock. It enables the user to operate the DSLR with just one hand. It eases the use of the camera, and you're dealing with the camera will be hassle-free.
Angle-adjustment knob
The angle-adjustment knob on this tripod stand has a spring self-locking tube. This feature makes it easy to adjust the three tripod tubes quickly. All you have to do is press and release for adjustment.
Pros
Easy to carry around
Great height possibility
Quick flip leg lock
Quick angle adjustments
It comes with a portable tripod bag.
Cons
Less sturdy for heavy cameras
2.     Joilcan 80-inch Tripod for Camera, Aluminum Tripod for DSLR, Monopod, Lightweight Tripod with 360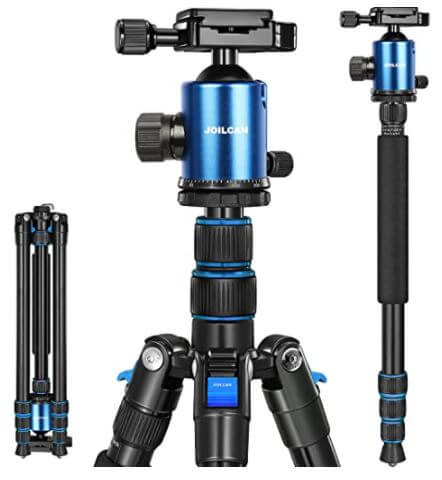 This aluminum tripod is available in multiple colors. Victiv has designed a monopod in this tripod stand, which means that its leg can transform into a monopod for convenient usage. With its compact foldable length, it is perfect for traveling adventures.
Height adjustment range
With its three-section aluminum legs, this tripod can extend its height up to 80 inches. Such a varied size ensures countless possibilities for the photographer to explore and enjoy.
Robust construction
A 38mm ball head ensures easy movement of the camera. The aluminum-alloy ball head is sturdy and stable for a long time. It has thick legs with an aluminum tube with twist-lock makes it a reliable product for different surfaces.
Professional ball head
The ball head on the Victor aluminum tripod has an independent pan lock, which lets the head rotate around its axis at 360°. The cut-notch at the side of the head enables the users to lock the camera's position at 90°. Such possibilities ensure a great capturing experience.
Pros
Integrated monopod
360° panoramic capturing
Compact size
Sturdy aluminum frame
Cons
It does not ensure stability on uneven ground.
3.     GEEKOTO 77" Tripod, Camera Tripod for DSLR, Compact Aluminum Tripod with 360 Degree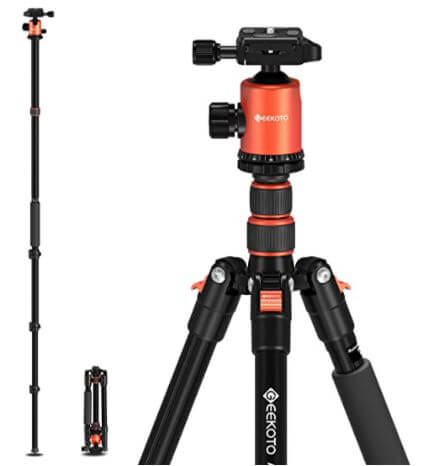 Geetoko's tripod is convenient for users because of its flexibility. The 2-section central tube offers a quick setup with its quick-release flip locks.
Panorama ball joint
The ball joint on this one allows a 360° rotation. This feature ensures capturing the best panoramic views.
Compactness
The size of this tripod allows users to carry it around with ease. Adjustable tripod legs have three different adjustable points for varying heights. Its size is perfect for travel photography.
Portable
It has a weight of 1.53 kgs and a height of 77 inches. It works with all DSLR cameras and has the capacity to resist more weight than other tripods. These product features make it a  perfect companion at your photography gigs at all times.
Pros
Weight resistant
Portable
Quick disassembling
360° panoramic view
24-month warranty
Center axis inverted shooting
Cons
Other tripods may offer a better height.
4.     Neewer 2-in-1 Aluminum Alloy Camera Tripod Monopod 71.2″/181 cm with 1/4 and 3/8 inch Screws Fluid Drag Pan Head and Carry Bag for Nikon Canon DSLR Cameras Video Camcorders Load up to 26.5 pounds.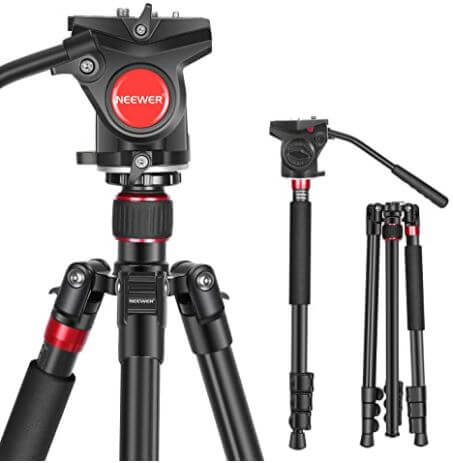 Neewer succeeded in producing a durable DSLR tripod made from aluminum alloy. It may be one of the best options with stunning shock absorption and other qualities like sound and heat resistance.
2 in 1 tripod stand
This tripod has the ability to transform into a monopod when convenient for the photographer. It has a removable leg that enables the transformation. The central axis can invert to serve the photographer with multiple low shooting angles.
Adjustable
The 4 section column legs are adjustable and can ensure a variety of heights. It also has a flip-type buckle that provides easy adjustments. Its elevation ranges from 24.4 to 71.2 inches and can fold into a small size of 17.9 inches for storage.
Quick shoe plate
It possesses a quick shoe plate, which means it is convertible from ¼ – ⅜ inches due to the mounting screws. Photographers use this shoe plate for tripods, monopods, camera sliders, etc.
Pros
Practical for traveling purpose
Dual convertible mounting screws
2 in 1 tripod
Durable
Cons
It does not have a generous load capacity.
5.     Dolica GX650B204 Proline GX Series 65 inch Aluminum Tripod and Ball Head Combo for DSLR, SLR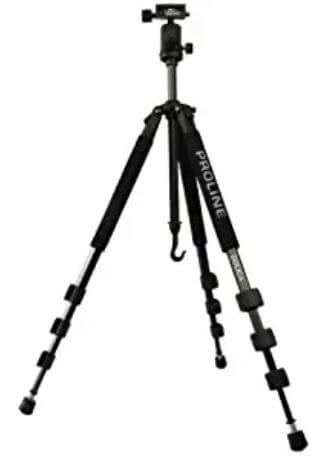 The Dolica GX650 is one of the best tripods for both indoor and outdoor shoots. With its 4.3lbs lightweight material, you can take it to different occasions. The Anodized Aluminum Alloy (AAA) and Plastic Polymer Composite (PPC) comes with a ball head that provides optimal stability.
NBR Foam Grips
The tripod includes NBR foam grips that enable tight gripping even in extreme weather conditions. Weather conditions like extreme cold or hot temperatures can make the metal unbearable to hold. With NBR foam grips, you will not have to worry about the tripod slipping from your hands.
Quick Release Plate
The quick-release plate has a ⅜ inch mount available for cameras that attaches to the ball head with a safety lock that keeps your camera from slipping or falling off while you loosen the quick-release plate. You can rotate the camera to 360-degree and tilt it up to 90-degree while attached to the ball head.
Pros
Provides extreme stability, reliability, and comfort
65" height column and 3.5lbs lightweight
Can support 17lbs of weight
It has four leg sections
5-year warranty
Rapid stability center column
Includes carry case
Durable flip leg locks
Integrated tripod bubble level
Cons
Only available in black color
6.     MACTREM Professional Camera Tripod with Phone Mount, 62″ DSLR Tripod for Travel, Super Lightweight and Reliable Stability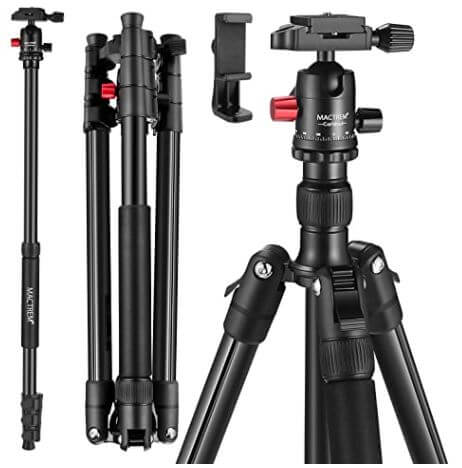 MACTREM is a lightweight and compact tripod with a collapsed height of 17.5 inches and 2.9 lbs weight. You can try with it anywhere as it fits small spaces easily. This tripod stand provides excellent stability in difficult weather conditions. It's portable, stable, lightweight, and comes with a simple locking mechanism.
Max Load Capacity
The MACTREM can support up to 33 lbs weight or 15kg to take stable, sharp pictures. The aluminum steel used provides excellent stability. Even with shaky hands, you can take perfect quality pictures.
Quick Release Plate
The quick-release mechanism has a ball head of ¼" screw, which can fit most of the cameras, camcorders, binoculars, and even projectors on it.
4-section Column Legs and Quick Release Flip-Locks
The tripod provides an easy setup without any hassles because of its 4-column legs, which have the flip-locks that enable easy height adjusting from 17.5" inches to 62.5" within seconds. The quick-release plates allow fast transitions while taking different shots and moving from one place to the other.
Pros
Adjustable height
15kg weight support
Captures 360-degree landscape
The 1-year technical support offered
Cons
Not 100% stable in windy conditions
Buying guide
To buy a suitable tripod, consider the following factors and then choose accordingly:
1.     Tripod's Feet
Depending on your shoot's place, condition, and situation, there are advanced tripods that offer feet replacement. These feet simply unscrew present at the bottom of the tripod. If your shoot is indoors, you will require rubber or plastic tripod feet.
For outdoor use, metal spikes will work best. Typically, tripods come with standard rubber feet, which work fine even in slippery conditions.
2.     Tripod Legs
You will find tripod legs in two forms: tubular and non-tubular. They differ in shape and style. If you are thinking of purchasing carbon-fiber portions, they always come in a tubular structure with a threaded twist-lock system to keep the legs secure in one place.
In contrast, aluminum, basalt, and steel tripods may have different shapes and a flip-lock mechanism. The number of legs in a tripod varies depending on the height of the tripod. The higher the tripod, the more legs it will have and the less stable it will be.
3.     Weight Rating
Although mentioned as the third factor, the weight rating is the most crucial factor to consider. You should know how much weight the tripod you're about to purchase can support. Always buy a tripod that can hold weight up to almost two times more weight than your camera and lens combined.
If you buy a tripod that can't hold up more than your DSLR's weight, the system will eventually collapse even if you put your hands on it. You may shoot with additional flash, battery grip, or something else entirely. So, keep the weight rating in mind.
4.     Height
To make it more feasible and easy for you to shoot, purchase a tripod that matches your body height. This way, you won't have to bend and place your eye in front of the viewfinder. When you purchase a tripod of your size, the viewfinder will be of your eye level.
Even if it goes higher, don't worry, as you can adjust the height to shorten the length. But, if it's lower than your eye level, you will have a tiresome experience when you have to bend continuously. A tripod with an attached head should be till your jaw level.
5.     Head
The essential part of any tripod, the head is responsible for keeping the DSLR and equipment securely upright while controlling the camera movement. Remember, a modular tripod doesn't have a head, so you will have to buy it separately.
When purchasing a tripod head, make sure it has the equal weight support capacity as your tripod legs. There are three head types:
Gimbal Headis used for extended and heavy 300mm+ lenses to balance the camera and heavy lens easily. They are easy to use in every direction without having to adjust the head with every movement.
Ball Head comes with one control of tightening or loosening the DSLR's grip. They are flexible with smooth camera movement.
Pan-Tilt Head comes with a single handle or dual handles for horizontal or both (horizontal and vertical) movement. Typically included in cheaper tripods and is the most common of all.
Conclusion
No matter which tripod you choose for your shoots, just remember that they should fit right with your requirements. Keep the buying guide in mind as the height, weight support capacity, the number of legs, quick release system, stability, and other factors matter a lot while choosing a tripod.
Let your DSLR tripod be your one-time investment, which you stay by your side for many years. Purchase the affordable DSLR tripods we have discussed for maximum benefits.