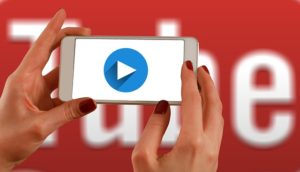 YouTube has quickly become one of the most popular social media websites, and it looks like it will continue to grow in the coming years. The ability for anyone to express themselves by uploading videos has gotten easier with the huge availability of different cheap cameras for YouTube that make shooting and uploading a breeze. The great thing about this social media platform is that is really is for everyone, from the kids looking to share fun video of their experiences with friends at school, to the professional vloggers who are promoting products or services available on their websites. The best part about YouTube is that you really need no experience to create videos that look and sound as good as expert videographers.
Choosing good video cameras for YouTube is another thing altogether because of the huge variety available to the consumer. Professionals have a wide array of high quality cameras to choose from, and others can even use their smartphones to create stunning videos that can be uploaded to the social media profile pages. The most common question that appears over and over from the professional to the novice, "What are some good cameras for YouTube that will create high quality with simple to use features?" With so many options available to the consumer, this article will chunk down the choices into sections that will allow you to simply decide based on your budget, your needs, and your experience.
Here is a comprehensive listing of the top cameras YouTubers use to showcase their videos for the world to see. The list starts on the low-end with mobile devices that work fine for shooting video, and run the gamete to the professional grade cameras that will shoot the best quality videos that you can upload to your profile pages.
Shooting Videos With a Smartphone
Now you might not think that a smartphone would be capable of creating quality videos for use on YouTube, but you would be wrong. The smartphones of today have more going on inside than many of the huge desktop computers that were all the rage just a few years ago. In fact, many smartphones today are capable of creating professional grade videos with the press of a button. Not only are smartphones good video cameras for YouTube, they make uploading the content as simple as clicking a button. The smartphone utilizing high-speed wireless technology to upload the videos to your YouTube profile page, and within minutes you can be sharing the content with a global audience. We will discuss a few smartphones that are in the average price range but will provide you all the tools that you need to create, upload, and share some amazingly high-quality videos.
1. The Google Nexus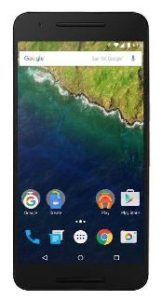 When it comes to a smartphone that does double duty as a YouTube video camera, the Google Nexus  is certainly one device that is up to the task. For those people who are more on the Android than Apple side of the fence, this phone can certainly function as your high quality video camera. This smartphone makes taking videos a breeze, and because of the high processing speed, you shoot your video, you log into YouTube from the device, start the upload process, and then go back to playing Candy Crush or texting your friends. This smartphone will make short work of getting the video online and in front of the world quickly. The video buttons are extremely simply to navigate with the smartphone, and because everything is being done through the phone, after you upload a few videos, this process will get faster and easier for you. Now you have the ability to shoot amazing video at the beach, the park, a wedding, or even at school, and share it with your inner circle on YouTube in minutes.
2. The Apple iPhone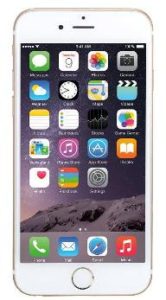 For those who prefer to play in the Apple world, the iPhone will give you everything and more you need when it comes to a high quality video camera. This is a very popular device choice even with the serious vloggers because of the high-end 1080p HD resolution. This mobile device will get you in the game and no one watching the videos will be able to tell if you used a smartphone or a high-end video camera to shoot your subject matter. This front-facing 720p mobile camera takes incredibly clear images and you have the ability to instantly upload them to your YouTube account with the click of a few buttons. The high-speed transfer rate will make easy work of getting even the largest files uploaded and in front of your fans. With a very fair price, high quality, and ease of use, this is certainly one of the good cameras for YouTube that will get the job done.
Uploading Videos While on Budget
When it comes to cheap cameras for YouTube, we are certainly talking about price and not image quality. Although many high-end cameras have incredibly high pixels and image quality, the affordable cameras today are miles ahead of even the best cameras of a decade ago. Technology continues to get faster and better each month, so choosing good video cameras for YouTube in this section will focus on price and usability. Now worries about compromising quality with these amazingly good cameras for YouTube.
1. The Sony HD HDRCX405 Handycam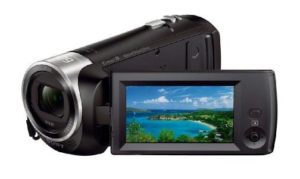 This camera quality a few years back would have cost you nearly a thousand dollars. The quality of the Sony HD HDRCX405 is compatible to the best cameras a decade ago, and today you get it for under a few hundred dollars. This is one of the popular cameras YouTubers use because they can get in the game cheap and still create high-end work. The videos can be shot at 1920×1080 Full HD 60p and it is the perfect size to slip in your pocket, backpack, or carryall and shoot in a moments notice. People will marvel at how amazingly clean and crisp the videos that you upload look. This camera is fast becoming the popular choice for skateboarders who travel to different locations and make on-the-fly videos of their adventures each day for their fans to enjoy.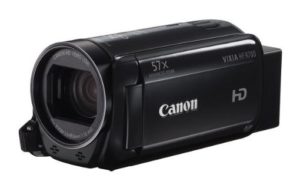 Coming in slightly more money that the Sony HD HDRCX405, this Canon VIXIA HF R7000 allows you to shoot some insane videos at full HD with a 57x optical zoom. Whether your subject is directly in front of you or at a decent distance, this YouTube video camera will bring everything up close and crystal clear. It comes with a powerful 3.28 Megapixel Full HD CMOS Image Sensor and utilizes an DIGIC DV 4 Image Processor. This lightweight camera is perfect for taking on vacation to get those amazing once in a lifetime video memories of your trip. The memory card slot allows you to take tons of video and keep swapping out the cards until you upload them to YouTube.
Middle of the Road Video Cameras
If you want to shoot professional grade videos but don't want to pay top dollar, these are some good cameras for YouTube that will not break the bank. These cameras will give you more than enough firepower to shoot in just about any condition and showcase some of the features that will make your job behind the camera easier. These are the perfect choice cameras if you are very serious about your vlogging, but not yer ready to go all-in.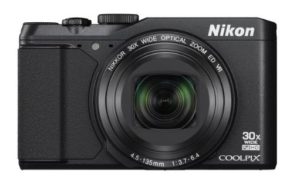 Still considered by many to be one of the cheap cameras for YouTube, the Nikon S9900 is perfect for the aspiring vlogger who wants a camera that has the ability to shoot high-end videos. This camera is still under $300 and features WiFi capability for uploading on the road, and 16MP sensor, and even image stabilization features. Not only will the camera help you to keep your subject in focus, it will virtually eliminate that wobble that can distract those who are trying to watch the videos. This camera has incredible zoom capability, and the SD slot allows you to load and reload cards and capture as much of your subject as needed without having to upload.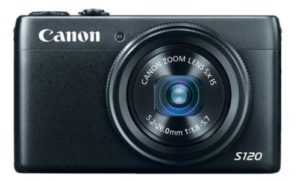 The good thing about the Canon S120 is that with the camera's advanced DIGIC 6 Image Processor  PowerShot S120 camera lets you shoot Full HD video at a selectable frame rate of 60 fps or 30 fps This camera is a breeze to use, compact, lightweight, and shoots video at a stunning 1080p with a 24mm Wide-Angle 5x Optical Zoom lens with a focal length of 5.2–26.0mm (35mm film equivalent: 24–120mm). This camera can do it all, from shooting fast-moving subjects, stabilizing moving subjects, to focusing in on the fine details of the surroundings.
The Top End Cameras for Shooting Video
When it comes to a high quality camera that shoots video, the following will certainly provide you everything and more that you need for uploading stunning quality videos to YouTube. These cameras are meant to be the do-all and end-all when it comes to uploading video, so whether you are a professional wedding photographer looking to upload your videos for prospective clients to see, a videographer who shoots car and truck show events, or someone running a company wanting to showcase all the positive attributes of your products, these higher-end cameras will certainly handle your needs and more.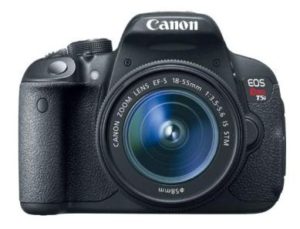 Considered to be the YouTube video camera of choice for professionals, this high-end camera will run you over $600 and boosts and impressive 1080P with over 30 FPS. Although the camera is slightly larger than low-end cameras, it packs inside everything needed to make the best quality videos possible. It comes with a swivel screen that makes capturing and recording at every angle simple, and the high-quality built-in microphone makes sound quality impeccable. What will set your video quality apart from others is the way the microphone drowns out background noises that can distract from the action. The sounds from your subjects will be clean throughout the shoot. If vblogging is your business, you need to use a high quality video camera that will showcase your company in the best possible light. Each video that you shoot and upload will look like a professional production company was at the helm directing the work.
2. The Sony HDRPJ260V Handycam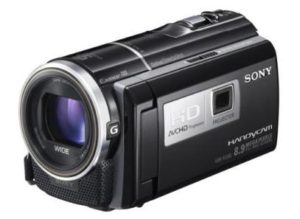 We have finally arrived at the top of the mountain when it comes to a YouTube video camera that does it all and creates the absolute best quality videos for your profile page. The Sony HDRPJ260V really will knock your socks off because you go from novice to professional with the click of the on switch. Now you have the ability to be able to record your videos in every possible condition, abundant sunshine, low light, fast-moving, or still life. The optical zoom of the Handy-Cam is simply unrivaled, coming in at an impressive 30x zoom. That means even if you are shooting wildlife in its natural habitat, you can bring the audience up close and personal as if they were sitting sharing space with those majestic and yet dangerous creatures. There is zero dip in quality with this high quality video camera even at the highest zoom setting, something most other camera can not say.
So now you should have all the information you could possibly need on finding either a high quality camera that shoots video or cheap cameras for YouTube, regardless if you are just uploading fun times with friends or showcasing your vast inventory at your job. Don't focus too much on the price of the camera, if you are on the fence and not sure if this is something that is going to pan out for you, start on the low-end and make your mobile device carry some of the load in addition to making calls and texting your family and friends.
If you find that this vblogging is something you need to pursue, then you have in your hands now all the information on the cameras and their specs from the low-end to the professional grade. If this is new to you, start at the bottom and slowly work your way up as your skill level increases.