Whatever their specialty or gear, one thing all photographers need is a tripod. For important shots, tripods help stabilize a camera. However, most tripods are comprised of three stiff legs and a camera mount. They are big and bulky and difficult to carry from shot to shot. Additionally, they are typically designed for only one type of camera.
The GorillaPod, however, represents one of the most versatile tripods available. For instance, it offers articulating, joint-based legs that bend and adjust to virtually any surface. In fact, some even work on vertical surfaces. Because of the joint-based technology, a GorillaPod allows any photographer in any industry to capture any shot.
In terms of versatility, they come in a variety of forms that allow photographers to work with just about any gear. Finally, they are customized to offer compact solutions for a variety of camera types. From point-and-shoot cameras to video cameras, they offer any photographer to attach unique cameras.
In terms of tripods, it no longer comes down to a question of which tripod is best–the question is now a matter of which GorillaPod is best for a photographer's situation.
1. For Point and shoot Cameras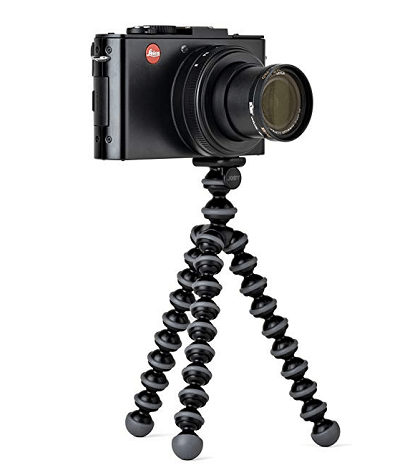 The JOBY GorillaPod Original Tripod for Point and Shoot Cameras allows casual photographers to take excellent still shots with this tripod that has 10 joints per leg. Made of medical-grade Acrylonitrile butadiene styrene (ABS) plastic, it is durable enough to survive any environment.
Key features
The legs adjust up to 360 degrees, allowing a photographer to position them securely on uneven terrain. In terms of strength, it can support cameras up to seven times heavier in weight without the legs bending. Additionally, the legs are not simply hard rubber. Instead, the high-traction rubber grips just about any surface, ensuring the mounted camera does not slip or move.
The .25-inch mount fits any standard camera mount, making it perfect for anyone needing a selfie or holiday group shot. In terms of portability, the tripod will fold into a ball or flatten into a long rod, making it fit easily into a variety of camera bags or duffel bags.
Premium features
– fits any point-and-shoot camera with a .25 mount
– lightweight for portability
– holds large cameras without buckling
– high-traction rubber feet
2. For DSLR Cameras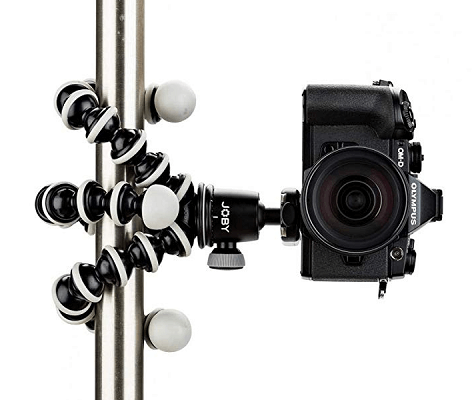 DSLR cameras are prosumer and professional cameras for enthusiasts and working professionals, respectively. These cameras can often be equipped with heavy lenses and other attachments, such as microphones or external flash bulbs. As such, they are much heavier than any standard camera.
In terms of tripods, this extra weight requires a tripod to be sturdy enough to withstand the weight. Additionally, the tripod must be versatile enough to allow the photographer to get the shot. Because artistic vision or commercial profits are often involved, the stakes are much higher.
Due to this level of professionalism, the GorillaPod SLR Zoom offers photographers a versatile platform capable of supporting cameras up to 6.6 pounds.
Key features
Made of Japanese ABS plastic, this stuff is resilient enough to resist scratches and impact damage. The .25-inch mounting screw fits standard DSLR tripod mounts, and the mount, itself, articulates left and right up to 90 degrees, allowing the camera to be positioned for vertical or Dutch angle shots.
The rubber legs offer a high-friction surface, and the joints allow for a 360-degree bend. As such, the legs can wrap securely around rods, posts, or branches without slipping.
The most important feature is probably the camera mount because it rotates 360 degrees. With this type of maneuverability, a photographer can setup the tripod, mount the camera, and rotate it for the perfect light.
Premium features
– supports up to 6.6 pounds
– 360-degree articulation
– allows for Dutch angles
3. For GoPro and Sony Action Cam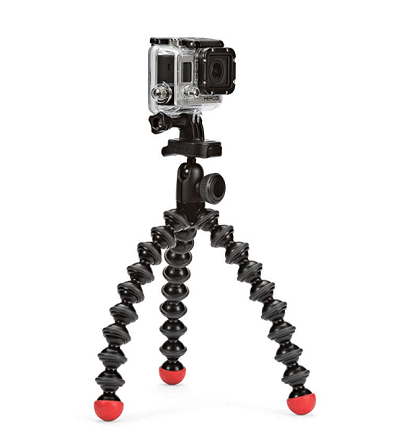 For GoPro owners, the GorillaPod Action Video Tripod fits the ever-popular GoPro video camera and Sony Action Cam. As with other GorillaPods, the legs wrap securely around just about anything. However, this particular tripod has an articulating ballhead that allows the photographer to pan for important video shots.
The .25 mount fits securely in the GoPro mount hole, and the quick-release clip allows for easy removal and re-attachment. As such, a photographer does not have to screw in the mount each and every time he or she changes locations. Because of the universal size, this tripod is perfect for other Sony video cameras, such as the 360 Fly.
Key features
The important thing about the GoPro video camera is that in the same way some GoPro cameras are designed to work under water, this particular GorillaPod will also work if submerged. The rubber design and the articulating joints will not rust or tarnish. Additionally, the legs will grip piers and settle easily onto rocks, ensuring a steady shot.
Premium features
– pans smoothly
– quick-release clip
– universal mount fits other motion cameras
4. For Video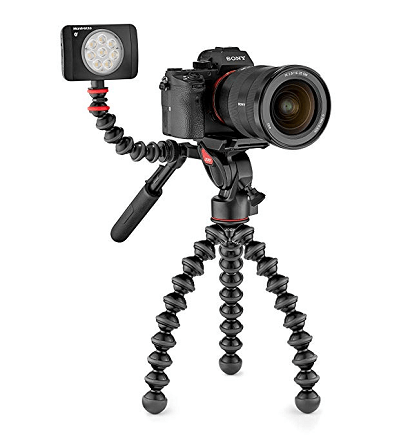 The JOBY GorillaPod 3K Video PRO is made specifically for videographers needing to capture motion across any number of terrains. This tripod boasts all the traditional features of any GorillaPod. For instance, the rubber legs have a high-friction surface that make it easy to secure it to any type of prop, fence post, or tree limb. Whatever the location, a photographer will be able to secure this tripod.
However, the legs on this particular model measure just under 13 inches. This added length allows for a higher camera position, which enables a more precise position for the best possible shot. The extra length also involves a greater number of articulating joints. With more articulating joints, a photographer has a greater capability of wrapping the tripod around objects to achieve a more solid footing.
Key features
With this particular model, there is not one particular stand-out feature. Instead, the overall feature set is what helps this GorillaPod stand apart. For instance, the .375-inch mounting screw is a heavy-duty mount designed for professional-grade video camera mounts. It will provide a more secure fit and allow less play. For ease of use, the sliding plate accommodates .25-inch mounting plates, which enable photographers to snap their cameras into place.
Because this camera is made specifically for videos, the camera arm is important as it allows additional components to be installed on the tripod. These components can be such things as external flash bulbs or microphones. Because each shot must be level, the built-in bubble level allows the photographer to adjust the camera's position until it is perfectly aligned.
Finally, the pan bar allows the photographer an intuitive design for panning or tilting. Just as important, the pan bar features a comfortable amount of resistance, which eliminates sudden pans or abrupt motions and makes possible smooth panning and video capture.
Simply put, this is a compact tripod with all the professional features of larger tripods. However, due to its versatility and unique leg-positioning system, it easily outmuscles traditional tripods in a variety of demanding environments.
Premium features
– legs just under 13 inches
– built-in bubble level
– pan bar
5. For Smartphones and iPhone SE to iPhone 8 Plus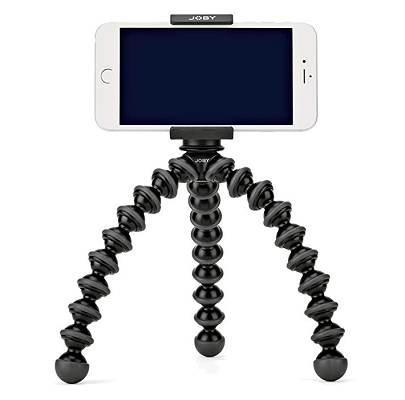 Although smartphones cannot yet compete with high-quality cameras, they will soon be able to. Even now, with 4K video capability and high-resolution photography and the ability to use some lenses, many photographers rely on nothing but a smartphone, but because smartphones are smaller and more lightweight, they are more susceptible to jarring vibrations or arm movements.
However, the GripTight GorillaPod Stand PRO has a slot custom designed for smartphones. As such, it merges all the best features of standard GoPro tripods with the unique mounting requirements demanded by phones. The result is a tripod capable of holding an awkward, flat camera.
Key features
The extending arm will grip phones ranging from 56 millimeters (mm) to 91mm. Additionally, it can also accommodate the added thickness created by phone cases. Most important is that the phone mount is secure and tight. As such, any danger of an expensive phone slipping from the mount is eliminated.
In terms of shot orientation, the mount can adjust for landscape or portrait shots. Additionally, the legs can wrap around just about any surface to allow a photographer to capture a shot from just about any unique point of view. Finally, the tripod can be compressed to form a handle, which makes this model perfectly adapted to serve as a selfie stick.
Premium features
– wide phone mount
– accommodates phone cases
– works as a selfie stick
Here are a few inventive ways that photographers and filmmakers can use the Gorillapod Tripod:
1. Exciting Nature Shots:
Outdoor photography can present a number of challenges when trying to find the perfect shot. The flexibility of the Gorillapod Tripod offers users the opportunity to take interesting and exciting pictures of everything from deer grazing in a field to birds playfully flitting around a birdfeeder.
Capturing the right angle for a picture close to the ground, like a stream, can be complicated. Keeping hands steady while filming something can cause strain that creates unwanted shaking. The legs of the tripod can be placed in several stable positions to make such pictures possible. For users who want a higher view, the rubber grips around the legs allow the tripod to be wrapped around generally challenging objects like tree branches. A patient photographer may be rewarded with an intimate view of a variety of wildlife.
2. Unusual Angled Shots:
For the ambitious, the Gorillapod Tripod can also be used for unusual or complicated angles. Classic overhead shots that feel as if the audience is floating over a scene can be tough to execute. The tripod legs can be wrapped securely around a stable object like an overhead fan to give audiences that ethereal feeling of hovering above a scene.
For an unorthodox application, the tripod can be positioned on to something like a rail. These angles can be used to capture the crowds of people descending down the stairs, perfect for B-roll referencing the activity of a professional environment.
3. Dynamic Perspective Shots:
The Gorillapod Tripod is not limited to stationary shots. The tripod also has several dynamic applications that empower users with the ability to create thrilling footage. The legs of the tripod can be shaped into different positions that give users a number of options for their shots. A tripod leg curled over the top of a camera in the shape of a handle gives photographers a way to create low shots that travel along the floor. Outer legs bent into handles can give users enough stability to create sweeping or tracking shots.
For fun, the tripod can be affixed to any number of unusual, mobile surfaces, from a pet dog to an arm. A curious pet owner can clamp the camera to a dog collar and see what kind of trouble their pet gets into. Strapped to an arm, the tripod offers yet another dynamic angle from which a scene can be filmed.
For the filmmaker or photographer looking to diversify their portfolio, the Gorillapod Tripod can be a valuable tool with limitless possibilities that allows them to create dynamic, unusual, and creative shots.