A regular camera bag offers ideal protection against normal knocks and bumps but it takes something stronger to survive a more serious impact. Hard cases provide the optimum protection for your cameras and lock them safely in place while keeping them portable. You can find several great options in the market for protector cases but Pelican is a popular, preferred brand when it comes to camera protection.
In this review, we take a closer look at the Pelican 1630 case and try to understand how this transport case helps keep your gear safe, protected yet portable.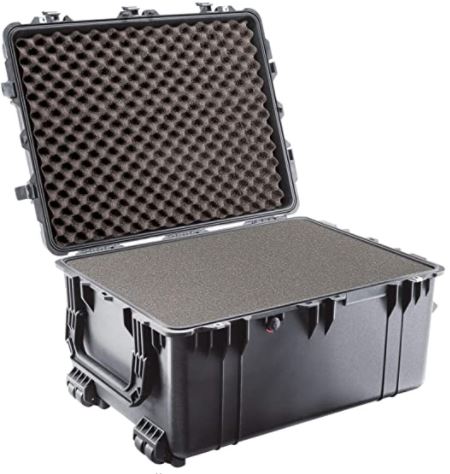 Pelican 1630 Review – UPDATED 2020
Pelican is a trusted brand known for its quality, reliability, value for money and professionalism. It offers high-quality products across categories including phone and camera accessories, cargo cases, packing and travel equipment and a lot more at affordable prices. People rely on Pelican when they look for protector cases to keep their valuable products secure.
The brand offers a huge range of protector cases targeted to suit specific applications. All these cases are designed to be sturdy and functional enough to protect the equipment from external elements. They are available in a wide variety of sizes, materials and types to choose from and make it easy to store and transport different gear they are made for.
The Pelican 1630 is a sturdy, beautiful camera storage case for camera owners who want the best of portability and protection for their gear. It comes in two elegant color options to choose from. Tan and black colors are visually appealing and high-quality construction material ensures durability. It is a watertight, airtight, unbreakable, dustproof, corrosion-proof and chemical-resistant hard case that provides unmatched protection of equipment from elements.
The Pelican 1630 is made in the USA to be a rugged transport case that withstands the harshest conditions. It is strong enough to defend your valuable camera against bumps, drops, shocks, jolts and extreme weather conditions. The case comes equipped with an automatic pressure equalization valve that balances the interior pressure automatically and improves the protection. It also has a watertight silicone O-ring lid with a tongue-groove fit to keep the equipment protected from water and moisture.
Pros
Dust-proof, watertight, crushproof
O-ring seal for water protection
Wheels with stainless steel bearings
Automatic pressure equalization valve
Double-throw latches for ease of opening
Stainless steel hardware
Two padlock protectors made out of steel
Pick n Pluck foam added as per customization
Rubber side and top handles
IP-67 rating for water-resistance
Lifetime guarantee
Cons
Too huge for some people
Can be too heavy to carry on an airplane
Pelican 1630 Protector Transport Case
The Pelican 1630 protector transport case has dimensions 31.3 x 24.2 x 17.5 inches and can carry 36 pounds of weight. It has rugged stainless steel hardware with over-molded rubber handles that fold down for convenience. It has a stackable design for better portability and storage. The case even comes with four strong polyurethane wheels featuring stainless steel bearings. Reinforced corners give a nice touch to the elegant design.
The Pelican 1630 protector transport case not only allows easy and secure storage of your camera but also makes transport convenient and safe. The retractable trolley handle and wheel system of the case allow easy transportation without any fatigue. It is highly resistant to crashes and keeps all your products safe. The interior is designed specifically to offer easy and secure storage of camera equipment.
The crushproof copolymer-polypropylene shell with stainless steel hardware creates this protective case that is engineered to last a lifetime. It is a choice for law enforcement, military and fire safety professionals across the world for its reliability. The camera case gives you three interior options to choose from – padded dividers, Pick n Pluck foam or TrekPak to suit your needs. You can easily configure the interior to suit the way you want to use the case. Padded foam makes sure your valuables are completely safe from bumps and shocks when transporting.
Pelican 1630 Replacement Foam
The Pelican 1630 protector case comes with Pick n Pluck foam that keeps your camera secure while storing and transporting. The foam can be replaced when needed with the Pelican replacement foam set for the transport case. This foam set is a do-it-yourself system that lets you customize the interior of your camera case. The product can be installed in place of dividers to meet changing requirements.
The replacement foam comes as a five-piece set with layers of foam pre-scored into small cubes. Using this foam is so easy. You just need to place the equipment on the foam, mark using a chalk and pluck away. The kit includes a Pick n Pluck base foam, a lid foam and pad base foam. Using the foam makes sure contents stay in place and get extra protection against shock and elements. You should keep at least one inch of foam between the wall of the case and your equipment.
Conclusion
With high-quality construction and reliable features, the Pelican 1630 is an excellent choice for anybody looking for a strong, durable, sturdy case for the protection of their camera. It is designed carefully to provide the highest level of security and protection from external elements and environmental conditions. Ergonomic, rugged design ensures convenient storage and hassle-free transportation. It is a worthy investment for those who want no compromise with the safety and security of their valuable equipment.