The best camera backpack allows you to carry and protect all of your gear for extended periods of time. One of the biggest benefits to these professional camera bags is that you can have quick access to all your gear wherever you may be traveling. Regardless if you are a professional traveling photographer or you are taking a unique back country vacation and want your laptop and camera gear along for the trip, consider a few of these important factors before just choosing any backpack.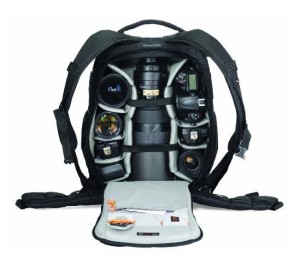 What Do You Plan on Shooting?
What you plan on shooting will have a huge impact on the type of photo backpack that you choose. If you already know what type of subject material that you will be shooting on a regular basis, then you will have a better understanding which camera and laptop backpack will work best for your unique needs. While different subject matter brings with it unique challenges, getting a good idea what you will need for every possible situation is key in getting the right pack. From children playing in the park to exotic wild animals roaming their natural habitat, these subjects will drive the types of lenses you need to have with you at all times and to being along to the shoot.
1. Street Shooting – When you do the majority of your photography work on the streets, you need the best camera backpack that will allow you fast access to the equipment when that moment of inspiration quickly arises. The photo backpack should include side access so you can quickly get the shot before it disappears. Access on both sides of the pack is ideal, as well as top or body access for getting those different lenses in a pinch. Make sure the backpack has a dedicated compartment for a tablet or laptop because in urban environments you will certainly have plenty of access to WiFi connectivity. Consider the slimmer style backpack design because on the busy streets you will certainly draw unwanted attention to those looking to make off with your equipment while you are distracted.
2. Nature Photography – When you do the majority of your shoots out alone in nature, you will certainly be a long distance away from the subjects of your pictures. While getting close to most of your subject matter is impossible, utilizing longer lenses will make short work of that problem. This means that you will need to find professional camera bags that will allow you to reach just about any subject in the distance. The super-telephoto lenses take up a lot of room, so look for the pack that has the added space and plenty of support to protect these expensive pieces of equipment. Consider shopping for the best dslr backpack, they are built for hiking and will easily and comfortably carry all of the larger lenses.
3. Adventure Photography – Remote locations that put you in challenging conditions call for a camera bag that can be mobile and protect your gear on the run. When shooting in these conditions, such as climbing, mountain biking, or skiing, you will need to bring along the right tools to support the type of shoots you will be involved in. There might be a need for climbing ropes, axes, and even skis, and this is in addition to all of your photography equipment. This calls for professional camera bags that are built to handle extreme weather conditions while protecting your expensive camera equipment. Look for packs that are both weatherproof and waterproof, made from abrasive resistant materials. Consider looking for features like a premium suspension system that offers maximum versatility.
4. Vacation Photography – Perhaps you are finally taking that long vacation to several parts of the world and you want to be sure to take plenty of pictures. Now you need the best camera backpack that will hold some of your non-related gear as well as your camera equipment. Consider a camera and laptop backpack that has dedicated space for the laptop and your personal items, then one additional compartment for all your camera gear. Being able to bring along your camera equipment and personal items will ensure you have everything you need when that unexpected photo opportunity arises. Many people who like to island hop while on vacation miss great opportunities to get amazing pictures because they bring along changes of clothes and not the right camera equipment. Choosing the right camera pack will allow you to easily carry the essentials and be able to document the journey with some amazing pictures.
How Long Will You be on the Road?
The time frame and location for your photo shoot can greatly affect the type photo backpack you should bring along. When you primarily take day trips to your shooting locations, you want the camera bag that provides the flexibility to handle your camera gear, laptop, and personal items.Be sure to look for a bag with built-in weather barriers to ensure everything is protected in the event of a sudden storm. These waterproof backpacks are ideal when your day trip includes canoeing, boating, or kayaking. Consider a backpack with a built-in rain cover to protect from rain, mud, and excessive dust. If your shoots involve being outdoors for extended periods of time, then you want to locate bags that can handle trekking poles, sleeping pads, and drinking devices. The best dslr backpack distributes the weight of all your added gear so the trek is comfortable, and usually has separate compartments for your camera gear to give it added protection. Look for a dedicated camera storage area with the waterproof barrier between the camera and personal gear.
How Are You Getting to the Shoots?
If you are going to be spending considerable time in planes or trains traveling to your photo destinations, you need a specific camera and laptop backpack that will comply with the regulations of these modes of transportation. Getting on a crowded plane with all your expensive equipment can be quite stressful for many photographers, so finding the right camera and laptop backpack that will fit safely in the overhead compartment is an absolute must. If you tend to travel to these shoots with a massive amount of camera gear, then you need to find the right size camera bag that carries everything you need to get the most of every opportunity. Many of the packs will easily fit in the overhead compartments, and provide you travel friendly rolling features so you can get the bag on and off the planes easily too.
What Type of Activities are Involved?
When it comes to choosing the best camera backpack, one thing that will determine which pack to choose is the types of activities that you will be involved with at these shoots. These different activities can range from quiet locations, sporting adventures, to active locations. Perhaps you will be on the active trail and don't want any opportunity to arise with you being unprepared, so you want the right pack that is both durable and can easily support every piece of camera equipment that you will be needing. When you will be cycling, hiking, or even mountain climbing, the camera bag you choose needs to be able to carry and protect your belongings while helping to keep you balanced as you trek to dangerous locations where the subject matter awaits. Many times the perfect shot can appear instantly, and then you need a pack that you can get to quickly and easily grab all the pieces you need before the opportunity is gone.
With so many photo backpack and professional camera bags to choose from, there is no need to get overwhelmed when you simply analyze your unique situation and build the bag around your specific needs. It doesn't matter the claims made by the manufacturer if you will not be utilizing all the features of their top-selling bag. That is the mistake many novice photographers make early in the game, they buy the best bag and then quickly realize it does not to support them on the road. The key here is to carefully picture your day on a number of different shoots and imagine everything you will need during those tips. Purchase a bag that is durable, weatherproof, and provides plenty of padded compartments to keep all of your expensive camera equipment safe during your travels.