As the popular saying goes, "a picture is worth a thousand words." Ever since the very first (almost) successful photograph was taken back in 1816, cameras and photography have grown increasingly popular as time passes. Now, we have whole museums, galleries, and showings dedicated to the art of photography, and plenty of people are even pursuing degrees and extensive, permanent careers in the field. Anyone with an eye for piecing together attractive visuals could potentially pick up a camera and capture tellings of beautiful stories.
From a Sony to a Nikon, Canon, Fujifilm, Olympus, Panasonic, or even a GoPro, there are plenty of options available on the market for cameras able to take high-quality, stunning photographs when in the hands of a talented photographer. However, even the best or most expensive of cameras couldn't overcome photography's worst enemy: the shake. The shake is what happens when you hold your camera in unsteady hands or set it on a surface that isn't stable. This is why every good camera – even the best of them – needs a partner in crime, which is where the flexible camera tripod comes in.
Benefits of Using a Tripod
A tripod is the added tool of perfection that every photographer needs to help capture an image in all of its glory. Without a stable tripod, the photograph is likely to come out blurry, unstable, or not completely leveled. The flexible camera tripod is a three-legged device with an adjustable central column and exchangeable heads to hold the camera depending on whether you are shooting photographs or videos.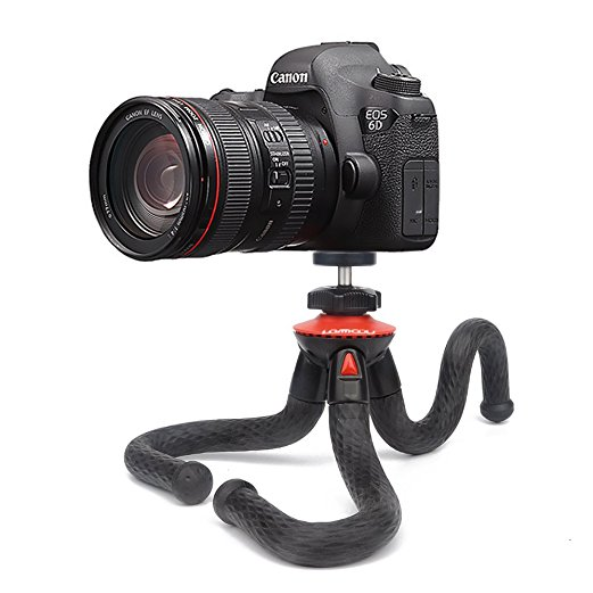 Using a tripod brings many benefits to a photographer, some of which may be surprising to someone who has never used one before or who is new to photography. Obviously, tripods prevent blurry or unstable photographs, which is very important, especially to professional photographers. However, they also improve macro shots and allow long exposure photographs to be taken in conditions of low light.
Another benefit of using a tripod can be experienced when taking photographs outside, especially while during rainy or windy weather conditions. Tripods can also help relieve photographers from feeling significant physical strain due to holding heavy cameras with long, obtrusive lenses. These devices are clearly very beneficial to hobbyists and professionals alike; although, it would be especially silly for a professional photographer to forgo the use of a tripod during sessions – unless they prefer selling blurry pictures, of course.
The Composition of a Tripod
Tripods are usually made from one of three different materials: aluminum, carbon fiber, or basalt fiber. Of the three materials, aluminum is typically used in tripods designed for beginners or low-budget photographers to the inexpensive cost while still being incredibly sturdy. However, if a photographer is looking for an optimally portable tripod, a newer one made from carbon fiber would be a better choice. Although they are typically more expensive than tripods made from other materials, carbon fiber tripods are lighter and easier to handle in difficult weather conditions. Basalt fiber, on the other hand, has been often criticized for its unreliability and low durability qualities.
Typically, camera tripods will weigh anywhere between 2.2 pounds and 6.6 pounds, depending on the model and chosen material. Weight should be an important factor to take into account for photographers who plan on traveling frequently, as many flights may have an excess baggage weight allowance in place. Otherwise, it should also be kept in mind that heavier tripods may be more difficult to carry over long distances. With that said, heavier tripods typically provide more stability and resistance to vibration or certain weather conditions.
Tripods usually feature three different height options to choose from: the closed length, minimum height, and maximum height. The closed length describes the length of the tripod when it is completely compacted to match the size of your carrying bag. The minimum height describes the lowest height of the tripod when all legs have been folded out; this height is often used when shooting at floor level or for macro photography. Finally, the maximum height describes the tallest height of the tripod when it has been extended to its fullest potential; using a tripod at its maximum height may introduce some instability due to the fully extended center column.
The head of the tripod is where your camera sits. Many tripods come with already integrated heads; although, these heads often introduce heavy limitations when it comes to customization and upgrading. Tripods like these are best for people who will only be using the device occasionally. Otherwise, it may be better to invest in a tripod that comes with a mounting screw to hook up external heads to so you can plan on upgrading your tripod or camera in the future.
There are two major categories of tripod heads: 3-way pan/tilt heads and ball heads. 3-way pan/tilt heads allow both vertical and horizontal orientation of your camera and are often used for landscape shots, macro photography, or videos. These heads are often very stable due to being equipped with either one or two handles for manual manipulation. Ball heads, on the other hand, allow the camera to be maneuvered on a 360 degree, panoramic rotation. These are often used by wildlife photographies for their wide scope allowance and provided freedom.
How to Choose the Right Tripod for You
There are several things to keep in mind when searching for the perfect tripod. First, a photographer should always consider the weight of his or her camera and possible future upgrades. Someone may want to spend less money on a lighter tripod that could be easier to handle, but this choice would end up being a waste of money if the photographer has a heavier camera that won't be supported by the tripod.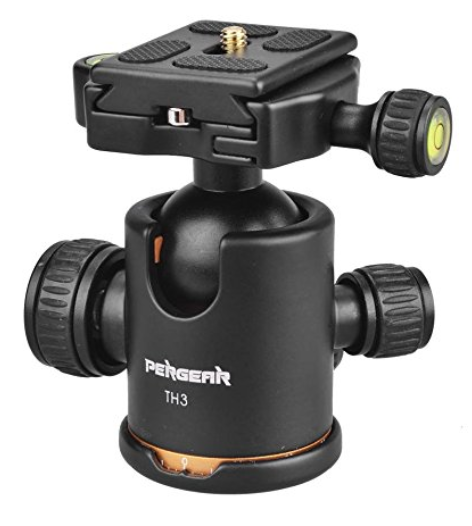 Another feature to carefully consider if the tripod head, which is the part of the tripod that the camera attaches to. Typically, tripods are made to accept interchangeable heads; however, photographers should always be sure that the tripod head you purchase is made for your camera. Some heads are only made for particular cameras, so it may be the case that a specific camera is excluded by some. Photographers should also consider what type of photography will most often be taken, as 3-way pan/tilt heads and ball heads lend themselves better to different genres of photography. For example, wildlife or sports photographers may be better prepared with a ball head that allows 360 degrees, panoramic movement.
When all is said and done, it is possible that all of these features may not even apply to some photographers, specifically hobbyists or professionals who choose to use compact cameras! If a photographer does use a compact camera, they may be better off using a mini camera tripod. Mini tripods, like the popular Gorillapod tripod, can be attached to nearly anything and provide freedom of use and optimal stability for compact cameras. In the end, photographers must simply keep in mind their particular cameras, and then the right tripod will come with those specifications.