With Photography, taking pictures can be extremely tricky if you have shaky hands. No matter how hard you try to cradle the base and position it in a firm position, you always seem to be at an off angle. Luckily tripods were created! They help steady a camera that doesn't already have image stabilization built in. However, tripods can be an investment and you always want to make sure you purchase the right one.
The "right" tripod depends on good weight, height, flexibility, head style, and feet style. It's easy to buy a cheap tripod but it can't be guaranteed it will improve your pictures. Following this guide will help find you the best tripod under $100 to help improve your photography career.
What To Look for When Choosing a Tripod
Weight: One of the most important features of a tripod to look out for is its weight. You never want to select one that is too light or too heavy. Choosing a tripod that is too light might not be effective in windy environments and tend to fall over which can cause frustration. A tripod that is on the heavier side may be harder to transport during shoots and due to its heavier feet, might not be able to get the best angle.
Height: When choosing your tripod's height, never overcompensate. The worst thing you can do is buy a tripod that elevates to over 50 feet, especially if you're shooting something that is only 20 feet. When in doubt go for a shorter option. You can always place the tripod on an elevated object to get a better height.
Flexibility: Flexible or fixed are two different styles for tripod legs. Fixed tripod legs are the cheapest and most popular, you'll remember seeing them during your school pictures. Flexible tripod legs are self-explanatory, they're flexible! They can tilt and adjust any which way to give the best picture. I will always go flexible since you never know what kind of picture you're going to take.
Tripod Head Style: Tripod heads come in 2 different options, pan-tilt and ball. The pan tilt head is more specialized to tilt to and from and the ball head is better to catch a variety of angles. No matter which one you pick, both are great options, it really depends on your photography styles. I, however, always pick the ball head due to its versatile viewing angles.Tripod Feet Style: Tripod feet have much more of a job than you'd think. Not only do they negate vibrations from the ground, but they can also stop a tripod from falling over during the perfect shoot. If you're on concrete or solid ground, go with rubber feet. If you find yourself in more malleable surfaces, go with spiked feet to stop it from moving as much.
Best Tripod Reviews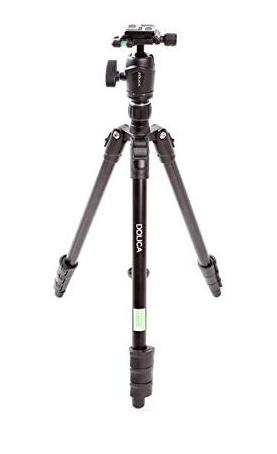 For a budget-friendly tripod, you will not get much better than the Dolica AX600B250. It functions as one of the best DSLR tripods, but it is also compatible with a selection of other cameras that weigh below 8 pounds. This tripod is made of a super lightweight aluminum alloy that makes it super easy to transport. It can also be extended up to 60 inches. This tripod also features a removable ball head and panoramic capabilities. For a professional grade product at an affordable price, the Dolica is the way to go.
Pros:
-Lightweight
-Panoramic angles include 360 degrees horizontally and 90 degrees vertically
-Great quality for the price
Cons:
-Less sturdy when legs are fully extended
-Can not support a lot of camera weight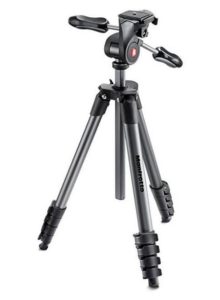 The Manfrotto MKCOMPACTADV-BK is one of the most user-friendly and best tripods under 100 dollars. This compact tripod weighs only 3 pounds and can support up to 6.6 pounds. The foldable three-way head offers great stability and accuracy when setting up shots. The three-way head also has two ergonomically designed levers. One of them is used to control the pan and tilt movement while the other controls leveling. With these handy levers, taking photos has never been easier. This tripod also comes with a padded storage bag for easy and safe travel.
Pros:
-Compact and lightweight
-Sturdy
-User-friendly design
Cons:
-No hook on center post
-Poor head fluidity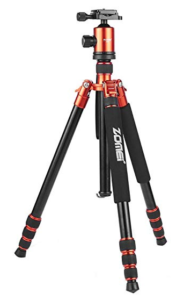 The ZOMEi Z818 Magnesium Aluminium Travel Tripod is the complete support system for any point-and-shoot, DSLR, and SLR cameras. It is durable, easy to use, and highly functional product to operate. However, like any other product it has both positive and negatives that are vital to look into before purchasing.
ZoMei Z818 Tripod Review
– Pros
One of the main pros to this tripod is its compact design that enables it to be wonderful for travel. The safety features are also quite exquisite with the Ball Head made with a Quick Release Plate to prevent the camera from slip and falls.The 360 degree panoramic feature enables set up precision shots more attainable with ease. With the bubble levels include, it also makes staying in target a breeze.
The four section legs can also be folded back and inverted at 180 degrees achieving an 18 inch stature, which is a notable feature ZOMEi has been known for. Despite compact size, this tripod is highly durable and flexible. Whether in cramped or spacious areas, it will remain steady to make every shot appear at its best. The Center Column Multi-functions of this tripod is also adjustable and removable. The versatility allows it to convert to a full size and also monopod from a simple removal of the center screw. For low angled shots, all it takes is a snap to invert the center of the column to put the camera below.
– Cons
The only drawback to this tripod is that it isn't the best when it comes to withstanding the heat. Some users also express how they wish the legs were made with clamps as opposed to the twist lock. However, considering the modest price and quality of the overall product, the pros certainly do outweigh the minor cons.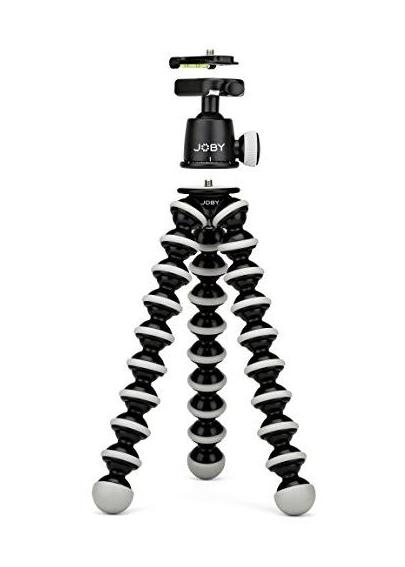 The JOBY GorillaPod is the smallest of the best tripods under 100 dollars. It reaches a height of just over 12 inches, weighs under a pound, and can support a camera weight of up to 6.6 pounds. The standout feature of this tripod is its legs. They are super flexible and wrappable so you can secure your camera to almost anywhere. This tripod also offers great stability of any surface, even rough terrain, due to the rubberized ring and grips on the feet.
Pros:
-Super flexible legs
-Lightweight and very portable
-Designed for SLR and Mirrorless Cameras
Cons:
-Low height
-Tripod struggles to hold camera weight when sideways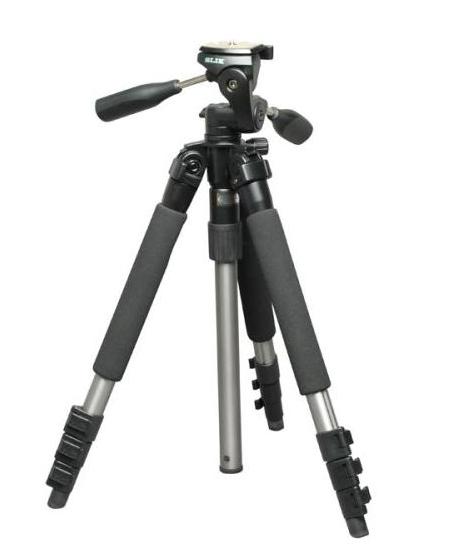 The SLIK PRO 340 DX has a super lightweight aluminum frame and can extend up to 57.9 inches. This tripod features a 3-way pan head with 2 handles used to control the pan and tilt. The legs are multi-position and they are covered by foam grips. This way, you do not need to worry about the aluminum being too hot or cold to touch. The legs also have rubber feet to provide extra stability. As far as DSLR tripods that are under $100 go, the SLIK PRO is a great option.
Pros:
-User friendly
-Lightweight
-Great quality for the price
Cons:
-Maximum height is not tall enough to reach eye level
-No built-in bubble level
Even when you are shopping on a budget, there are plenty of options for high-quality tripods. It is all about finding the right tripod for you and your needs. Now is the time to get out there and start taking those photos!