One of the highest-rated entry-level models in the DSLR range from Canon, the 1100D that was introduced in 2011, is a great choice for anybody giving photography a try or looking to upgrade from a traditional camera. It is priced affordably and boasts all the features and functions you would want in a modern camera. The Canon 1100D features a 12.2 MP sensor, 9-point autofocus capability and support for 720p HD video.
The Canon 1100D is a versatile piece of equipment to suit a variety of applications. Users soon realize that adding a good lens to it can make a lot of difference to the experience. This guide is aimed at helping you choose the right lenses for this camera to take your photos and videos to the next level. In this guide, we discuss what you should look for in the best lenses for Canon 1100D and consider a few of the options available.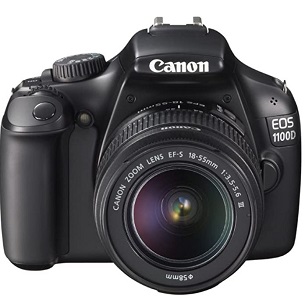 Lenses For Canon 1100D – UPDATED 2020 – A Complete Guide
Canon is one of the best choices when looking for a great glass for the Canon 1100D. The Canon EF 24-70mm f/2.8 is one of the first lenses one should consider to make the most out of this DSLR. It is known to be a must-have for professionals who want to take great shots in a variety of conditions. It features a distinct optical design in a light, tight, weather-proof construction to be ideal for usage in any situation.
Then, there are lots of options for a wide-angle lens that one would want to add to the camera to complement the system. These lenses are perfect for portraits, architecture and landscapes and provide a better field of view as compared to the naked eye, capturing more into the frame.
EOS 1100D Lens Compatibility – What You Should Know?
Most people entering the world of photography believe that a camera lens fits every camera that accepts lenses. However, the reality is different. Every manufacturer has its own unique mounting system including Canon. This means Canon users can add different lenses that support specific mounting systems like EF-M, EF-S and EF.
Though you can always get third-party mounting rings that convert any lens into universal, it is a good idea to be aware of the lenses that directly comply with your camera. Fortunately, the EOS 1100D lets you use any lens with an EF or EF-S mounting compatibility. This type of lenses is designed to fit the EOS series of mounting and you can use the lenses without having to look for any additional hardware which affects the power of the lens.
Sigma Lenses For Canon EOS 1100D
Sigma has a complete range of lenses designed to work with the Canon EOS 1100D and most of them perform as good as the Canon glasses and come at much better prices. Here are some of the 1100D lenses you can consider from Sigma.
Sigma 35mm F 1.4 DG HSM Art
This lens from Sigma boasts a quality that beats that of Canon and others. It delivers excellent sharp images and is quick to focus. At the widest aperture, the performance is outstanding in low-light conditions and the bokeh looks beautiful. It is one of the best wide-angle lenses for the Canon 1100D.
Sigma 17-70mm F 2.8-4 DC Macro OS HSM Canon EF
Extremely compact and lightweight, this lens is ideal for family, travel and art. It is great for macro photography and lets you take close-ups of flowers and jewelry. A large maximum aperture aids the composition of images and fast shutter speeds to prevent blurring. It offers a superior quality of image throughout the zoom range.
Sigma 24mm F 1.4 DG HSM Art Canon
This 1100D lens offers excellent optical performance and provides images free of warping. The latest design technology means there is a minimum aberration and a natural bokeh effect. This lens features FLD glass elements to deliver a high quality of image throughout the focusing. It ensures high-contrast images even at open aperture.
Tamron Lenses For Canon EOS 1100D
Another company making high-quality lenses at affordable prices, Tamron has a number of options available when you are looking for new glass for your camera.
Tamron SP 70-300 mm F 4-5.6 USD Canon EF
This lens uses an advanced optical design to achieve the highest image resolution. It is the first lens to boast the Tamron ultrasonic auto-focus mechanism for fast focusing, making it a great choice for a telephoto zoom. Specialized glass elements help it achieve top resolution in the 70-300 mm category with image quality improvement.
Tamron SP 150-600 mm F 5-6.3 Canon EF
The lens offers a high-performance 150-600mm long-range zoom to let you capture birds, wildlife, sports action and travel spots. Special ultrasonic silent drive and vibration compensation allow shooting crisp images of distant, moving objects effortlessly while modern technology works to produce vibrant pictures.
Best Telephoto Lens For Canon 1100D
Telephoto lenses have a focal range that allows capturing nature shots and fast-action sports. The zoom of this type of lens lets you photograph the subject through different distances and actions. A wide aperture is advantageous for shooting in low-light conditions.
Canon EF-S 55-250mm F 4-5.6
There is no better option than this Canon glass for those who want to get their first telephoto lens for their 1100D. It is an affordable lens in high-quality with fast autofocusing and stabilization. It is light and can be carried around easily and delivers the desired performance in any condition.
Canon EF 70-200mm F 2.8L USM
This lens is a serious consideration with features, construction and optics second to none. The F 2.8 aperture across the zoom range lets you shoot images in low-light conditions. It also offers exceptional autofocus and image stabilization.
While it is not so easy to find the right lens for your budget and needs, this guide should help you find the best options for your Canon 1100D. The perfect lens can change the way your pictures look. We hope the options we have highlighted help you make an informed decision.